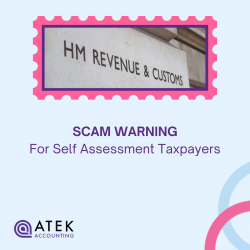 A scam warning was issued to 12 million self assessment taxpayers.
Self assessment taxpayers must be on the lookout for scam texts, emails, and phone calls from fraudsters, HMRC has warned.
HMRC has received more than 130,000 reports about tax scams in the past year, with 58,000 of those offering fake tax rebates.
With around 12 million people expected to submit a self assessment tax return for the 2022–23 tax year before the January 31, 2024, deadline, fraudsters will prey on taxpayers by impersonating HMRC.
The scams take different approaches. Some offer a rebate; others tell taxpayers that they need to update their tax details or threaten immediate arrest for tax evasion.
Myrtle Lloyd, HMRC's Director General for Customer Services, said:
'HMRC is reminding taxpayers to be wary of approaches by fraudsters in the run-up to the self assessment deadline. Criminals are great pretenders who try to dupe people by sending emails, phone calls, and texts that mimic government messages to make them appear authentic.
'Unexpected contacts like these should set alarm bells ringing, so take your time and check HMRC scams advice on GOV.UK.'
Protecting your tax affairs with Atek
If you have any concerns regarding texts, emails, or phone calls related to your tax preparation, it's crucial to seek advice promptly. Reach out to HMRC or consult with your accountant for guidance. At Atek Accounting, we prioritise your financial security. We collaborate closely with our clients to ensure compliance with HMRC filings while remaining vigilant against potential fraud.
With our extensive experience and partnership with HMRC, we have the expertise to identify deceitful requests and protect you from scammers. Our dedicated accounting services cater to small to medium enterprises, specialising in industries such as performing arts, events management, and tech / digital / creative companies.
Take proactive steps to safeguard your financial interests – consult with us at Atek today.
Internet link: HMRC press release