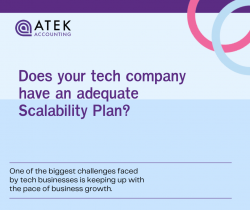 One of the biggest challenges faced by businesses in the tech sector is keeping up with the pace of business growth. Many businesses don't focus on proper scalability planning – a crucial step to sustaining growth and keeping their competitive edge. It's vitally important to take the time to plan for how you will maintain your profitability and efficiency when the volume of sales increases.
Consider these key points as you formulate your scalability plan:
Systems and Infrastructure Design
If your systems and infrastructure aren't designed to handle increased business or expanding markets – then rather than capitalising on this increased demand, you may be faced with system crashes, slow response times, and a poor user experience. Customers may become frustrated, lose trust in your company, and go elsewhere. Don't let your infrastructure hold you back.
"We advise our tech clients to review how they set up their infrastructure, systems, and processes from the very beginning. Companies often underestimate the potential growth and demand for their technology solutions. If systems and infrastructure are not designed to handle increased user loads or expanding markets, it can lead to performance issues, unhappy customers, and increased operational costs."
Scalability Gaps Hold You Back
As your company grows, if you have scalability gaps that you need to stop to work on, this will divert time and resources away from product development efforts. If you have to pause future development, you won't be able to introduce new offerings to the market in a timely way, giving your competitors an edge.
Avoid Reactive Scaling
It's key to think about scalability from the start. Reactive scaling, because you have to deal with unexpected spikes in demand, can lead to hasty decisions like buying high-priced hardware or software licenses. Without a strategic approach to scaling your business, you can end up wasting resources on temporary fixes and dealing with over- or understaffing mistakes.
Consider Security Measures
In your planning, it's important to consider security measures so you're not exposed to vulnerabilities and the risk of data breaches. As your user base expands and new services are introduced, your business becomes a more attractive target for hackers. If you haven't managed data processes sufficiently, you may have data loss or corruption, which leads to reputational and potentially legal issues.
Proper Planning is Key
Quick response times and the ability to scale rapidly are critical for capitalising on emerging trends and entering new geographical regions. Without proper planning, you may struggle to expand your customer base and adapt to changing market conditions in time to catch these opportunities.
How Atek Can Help With Scalability Planning
At Atek, we help our tech clients understand the numbers so they can make smart decisions. When looking at scalability, we can analyse historical financial data for patterns, trends, and growth drivers to help businesses set realistic growth targets and efficiently allocate resources. Our accounting data supports budgeting and investment decisions across the business – allowing our clients to make informed decisions about scaling operations.
Increased demand for your product or solution is a fantastic problem to have – if you have built the capacity to adapt to – and profit from – this increase. With a clear understanding of your financial position, you can start proper scalability planning and make sure you're ready to reap the benefits of your growth.
Ready to scale your tech business? Contact us to make sure you're in the best position to do so.